The Air Jordan 3 Retro Fire Red is a sneaker that exemplifies both style and heritage. Released as part of the Air Jordan collection, this particular colorway has become an iconic symbol of the brand. With its striking design, rich history, and enduring popularity, the Air Jordan 3 Retro Fire Red has captivated sneaker enthusiasts and fashion-conscious individuals alike.This legendary silhouette has become a staple in the sneaker community, captivating enthusiasts with its timeless design and rich history. Originally released in 1988, the Air Jordan 3 Fire Red quickly became a fan-favorite, thanks to its revolutionary features and association with basketball superstar Michael Jordan.
In this article, we will dive into the captivating world of the Air Jordan 3 Retro Fire Red, exploring its design, features, cultural impact, and its status as a beloved sneaker among collectors and fans worldwide.
Design and Features
The Air Jordan 3 Retro Fire Red features a design that blends classic elements with contemporary flair. The upper is predominantly dressed in a clean white leather, providing a versatile canvas for the contrasting fire red accents. The iconic elephant print, a hallmark of the Air Jordan 3 Retro, adorns the toe cap and heel, adding a unique texture and visual appeal.
One standout feature of the Air Jordan 3 Retro Fire Red is the visible Air unit in the heel, delivering exceptional cushioning and impact protection. This innovation, coupled with the sneaker's supportive midsole and comfortable fit, makes it a reliable choice for both athletic performance and everyday wear.
The Fire Red colorway, with its bold and vibrant accents, adds a touch of fiery personality to the Air Jordan 3 Retro, making it a statement piece in any sneaker rotation.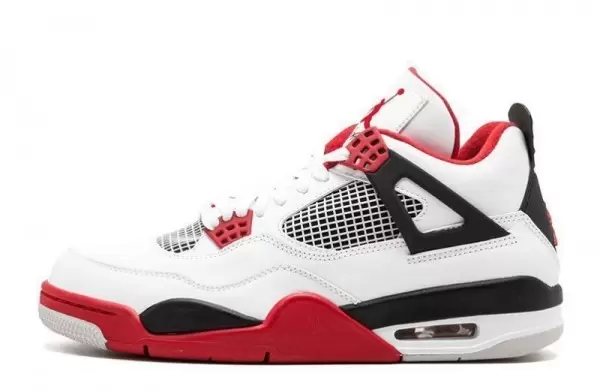 Cultural Impact and Enduring Legacy
The Air Jordan 3 Retro Fire Red holds a special place in sneaker culture and has left an indelible mark on the world of fashion and beyond. Since its initial release in 1988, it has gained a loyal following and has become a cultural icon.
The Air Jordan 3 Retro Fire Red gained significant visibility when Michael Jordan himself wore this colorway during the 1988 NBA All-Star Game. His performance on the court, coupled with the eye-catching design of the sneaker, propelled it into the mainstream consciousness.
Over the years, the Air Jordan 3 Retro Fire Red has been embraced by sneaker enthusiasts, celebrities, and athletes alike. Its timeless appeal, combined with its connection to Michael Jordan's legacy, has solidified its status as a must-have sneaker for collectors and fashion enthusiasts.
Collaborations and Limited Editions
While the Air Jordan 3 Retro Fire Red is a classic colorway in its own right, it has also been the canvas for exciting collaborations and limited editions. Jordan Brand has partnered with renowned designers and artists to create unique iterations of this iconic silhouette.
Collaborations such as the "Fragment Design" and "Black Cement" versions have reimagined the Air Jordan 3 Retro Fire Red, infusing it with new perspectives and innovative details. These limited editions not only pay homage to the sneaker's heritage but also push the boundaries of design and creativity.
Summary
The Air Jordan 3 Retro Fire Red stands as a testament to the enduring appeal of the Air Jordan brand. Its striking design, rich history, and cultural impact have solidified its place in sneaker culture. Whether you're a devoted sneaker collector, a basketball enthusiast, or a fashion-forward individual, the Air Jordan 3 Retro Fire Red offers a unique combination of style and heritage.
Step into a legend with the Air Jordan 3 Retro Fire Red and experience the thrill of owning a sneaker that has stood the test of time. Embrace the fire and ignite your style with this iconic silhouette that continues to capture the hearts of sneaker enthusiasts worldwide.